In his films and videos Larjosto combines traditional narrative to the more experimental modes of expression of video art. His work deals with subjects that can be described as mysteries of circulation: ecological and society based problems to series of psychophysical events characterized by black humor and surprise.
As an artist, I have exposed myself and encountered a "miracle". The short film "Beekeeping", lasting 28min, was completed in August 2019. The film is not a traditional nature documentary, though it has some aspects. The film aphoristically deals with the coexistence of bees and humans, resilience and is a poetic entity.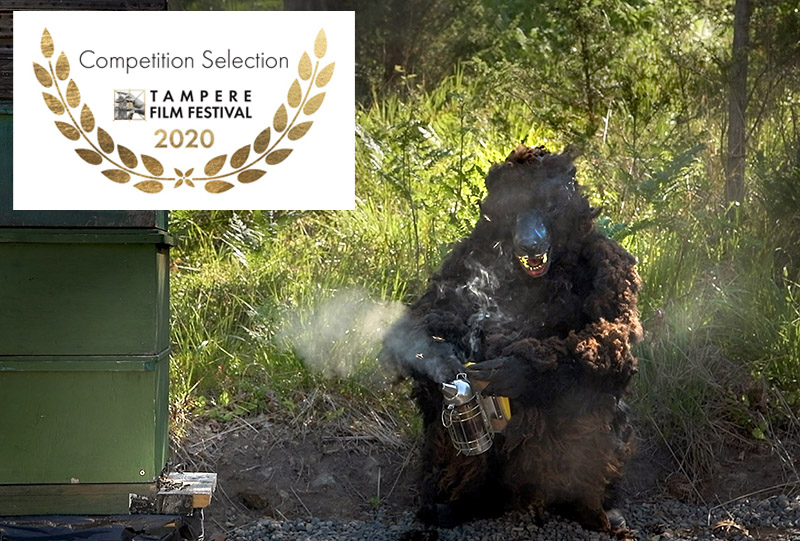 The masqued inheritor , ghost from the woods, awakens faces from a forgotten mine. A local story becomes a part of the global world, the nature. Antropocene. Modern human follows certain practises that have orginated a long time ago. More at Perillinen – Inheritor page.
Film and photo entity 2009. Film Pandemic: A delivery man experiences it all – and sees grey people – on the outskirts of a city during his working day. The film focuses on the global human act of keeping the system running. Photos are partially made during the film shootings and separately under title "Each has role, slot" – jokaisella on osansa…
Some music videos:
Some earlier video art:
Harri's videos are distributed also by The Distribution Centre for Finnish Media Art, Av-Arkki.